Through The Eyes of a Stranger
November 10, 2011 in Detroit by Brian Rome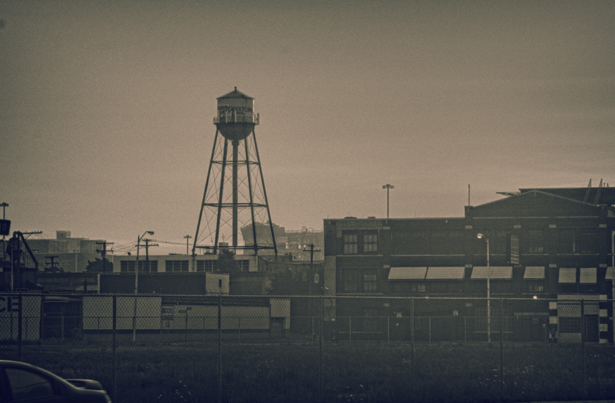 End of July went on a photo trip to Windsor and Detroit. I went with my friend Chris and eight other photographers. I have to admit that for me this was THE trip. We have been planning this since early spring, coordinating with colleges in Windsor. The main idea was to go into Detroit for the day. Leave Windsor as early as possible and stay over till exhaustion set in. The trip agenda was finally set and settled over a couple of very cold pints. We left Windsor at 5:30am and managed to get to Detroit (and customs) and our first stop by 6am.
We first stopped at Michigan Central Station. This can clearly be seen from the Windsor side. Very haunting! The morning was hot, steamy and a little uncomfortable. Guarded by Homeland Security entry was not something we contemplated.
Second stop on our tour was St. Agnes church. St.Agnes has been abandoned since 2006. It seemed that the scrappers have made quite the mess as most items of value have been removed making quite the mess. Quite a shame really.
The next stop was the Eastown Theater. The Eastown had opened in 1930 and ran up to the late 1960's and then a checkered history up to 1973 where it finally closed. In 2009 there was a fire which brought down the small apartment building behind the theater making quite the mess out of the Eastown. Difficult to shoot here as the only sources of light where the end and side doors. Others problems where a very large hole in it that was covered by a piece of plywood. The roof between the main floor and the balcony was falling apart and was basically just re-bar remaining. This is all while dodging all the garbage that was all over the floors.
The final stop was the Packard Plant. I have to tell you this was what I had been looking forward to the most. Since the initial planning , from everything I have read, the pictures I have seen there was nothing that could prepare you for the enormity and vastness of this building. From what the scrappers have taken from the building to what others have brought into the building you are in awe. "The Pack" had not been a functioning building for over 50 years it was not in bad shape. Our group had spent over 5 hours here and it seemed to go by in a flash.
In further blogs I'll fill you in on some of the finer details of the trip.
Until then, keep the camera handy always ready.